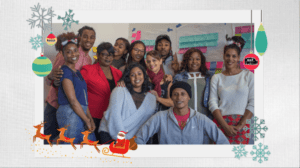 By Staff Writer Jackie Byers
This year has been another challenging year on all fronts. We have experienced the material impact of capitalism and white supremacy on local, state, national, global and planetary levels. The widespread impact of America's cognitive dissonance has shook the foundation of liberal and progressive politics has been a "wake up call" for some and a "let's continue to press the snooze button and hope this too shall pass," moment for others. However, through this new stage of clarity, there is an erosion of the "middle".For some, that erosion of the middle of the road is the greatest loss of all. Middle of the road progressives have found a sweet spot where human rights can be negotiable as long as there is an appearance of reform. It is the place where polite racism is swept under the rug and poverty is pushed far enough out of site that under dim lights we can tell ourselves that it is a condition only relegated to those that haven't had the class"ambition"or the so called american values of assimilation and "hard work," to rise above their circumstances. The middle of the road has always been a great hiding place for many of us, leaving our sisters and brothers on the corner to fend for themselves.
Black working class people in this country have experienced 2017 much like they experienced 2016 and much like they experienced 2000. Black people have experienced abandonment and exploitation disguised by a hurricane called Katrina and a hurricane called Maria.This new administration did not bring white supremacy to this country it just brought a less photoshopped version of white supremacy. Perhaps, this clarity could be the force necessary to collapse the fences of the status quo and push our so called allies who have been too comfortable sitting on the fence, to find their position. Neutrality is not an option in times like these.
At a minimum, more people are realizing that building a movement and working across organizations is critical whether you are at an Oakland school board meeting fighting for a more equitable budget that doesn't cut libraries and special education, or you are in a room full of parents across the region whose children have been terrorized by school police or suspended, expelled and abandoned by school administrators. We are in a moment where most of us have been pushed out and backed into a corner together.
This moment requires new levels of sacrifice, it requires humility, discipline and creativity. Maybe the corner is our strength because in the corner we can strategize, we can lift each other up, we can mend our wounds, we can see the big picture and in 2018 we must decide that we are coming out of the corner and more then ever we are willing and ready to fight.
The corner was our magic, our music, our politics
Fires raised as tribal dances and war cries
Broke out on different corners
*The Corner-Common( feat. last poets)
We are grateful to those who have continued to support and believe in not only the work of the Black Organizing Project but who have continued to have faith in the power of real people who are organized. We are grateful to those who have determined to believe that we can have schools without police across this country and Oakland can lead that path. We are grateful to those who believe and are willing to help make that possible by 2020. It takes faith to believe in something that you haven't seen. It takes courage to help make that possible while others stand and wait. We are grateful to those who have understood the importance of standing in solidarity of Black organizing in a real and authentic way. Most of all we are thankful to the folks we met on the street, behind the doors and out in the community. The sacrifices that you make to build the collective power of community to fight not only for yourself but for your sisters and brothers–that is real love. That love of our community connected to a bigger vision and struggle will be our pathway and power to make a real impact into 2018 and beyond.