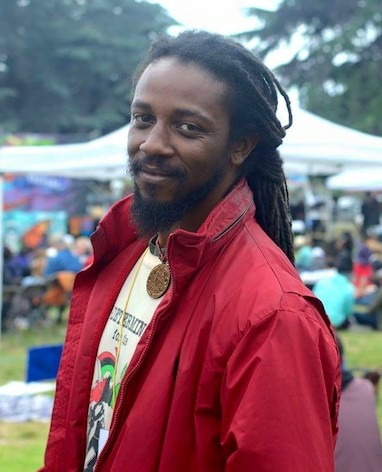 Sanyika Bryant
For the last 20 years Sanyika Bryant has worked as an organizer in different formations on a wide array of issues ranging from transportation justice, tenant rights, police brutality and more. He got his start in organizing as a member leader in the Bus Riders Union in Los Angeles and has gone on to work at Causa Justa Just Cause as a Tenant Rights Organizer for 11 years. He is also a longtime member of the Malcolm X Grassroots Movement, serving in various positions in the organization's leadership.
Sanyika's work is rooted in self-determination and his political ideology is New Afrikan Revolutionary Nationalism. He sees his work as his personal contribution towards ending all forms of oppression and is committed to helping others build a world where everyone is truly liberated.
Sanyika was born in Chicago, Illinois, and was raised in Los Angeles, CA. He is the oldest of 6 and considers himself to be the 3rd parent in his family. He moved to Oakland in the fall of 2009. He has a passion for history and creativity and spends his free time studying history and making art.